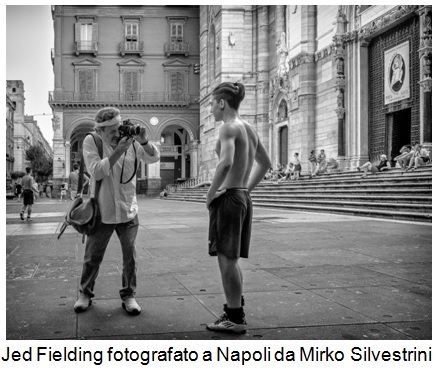 Musinf International programming of photography. After Ara Guler and Leo Matiz the international attention of the Musinf focuses on a main personality of American photography, Jed Fielding, author of the photo books "Look at me" and "City of Secrets".
Fielding is an author linked to our history of photography, because many years ago he came to Senigallia to meet Mario Giacomelli.
Yesterday the Musinf director, prof. Carlo Bugatti, asked Mirko Silvestrini, who met Jed Fielding in Naples a few days ago, to organizer a meeting with the famous American photographer in the forthcoming year. Born in Boston in 1953, Jed Fielding received a BFA degree in photography in 1975 from the Rhode Island School of Design, Providence, where he studied with Aaron Siskind and Harry Callahan.
He received his MFA degree in 1980 from The School of The Art Institute of Chicago. Fielding has traveled and photographed extensively in Egypt, Greece, Italy, Mexico, Spain, and the United States. His work is featured in the monograph City of Secrets: Photographs of Naples by Jed Fielding (1997), and is represented in numerous public and private collections, including the Art Institute of Chicago; Center for Creative Photography, University of Arizona, Tucson; International Center of Photography, New York; and Museum of Modern Art, New York. Fielding lives and works in Chicago.
"I've been looking for this city my whole life," is the thought that struck Jed Fielding, standing in the middle of a small piazza, on his first trip to Naples in 1977. Since then, Fielding has returned almost every year to this city, which has become his primary focus, to record the particularities of its street life. Fielding has become attached to the experience of walking through Naples to record its playful, posing, curious, tense, and ambiguously gathered denizens. In the end, his photographs clearly show a mastery of the photographic concept of framing, and evoke a portrait of the city by focusing on the forms, activities, and passions of its people.